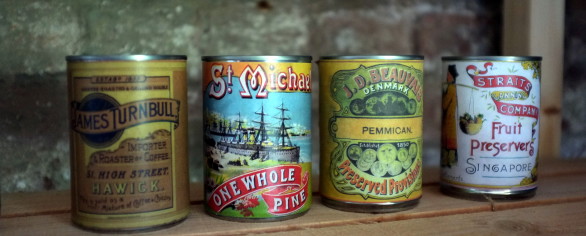 Canned goods are one of the most convenient and shelf-stable foods for your pantry.  But they can become annoying. Trying to stack them and store them in order while they fall or take up too much space.  
Since most of our canned goods are the standard sized can (16oz), rather than the large #10 cans, I thought we could do without a rotation rack for a while. Nope. Cans were falling all over the cupboard. The use-by dates were getting mixed up and the whole thing was a rolling, denting and foot bruising fiasco. 
With space and budget at a premium, I looked for the best way to organize a small mountain of store-bought canned goods.  I also knew that we needed the storage option for them to be portable, not a mounted, heavy wall rack. In the hunt for a solution, I found The Can Organizer.  

Below are my opinions, the pros and cons, a product review if you will, of The Can Organizer.  
Pros:
For the amount they store, they are far less expensive than that of the metal canned goods storage shelves/units.
There are multiple size options to fit on almost every depth of a standard shelf or cupboard.
Portability is possible. You can pick one of these up, fully loaded with cans and move it to a more suitable location if you move or rearrange your kitchen.
They are quite surprisingly sturdy. Although made of cardboard, we simply used shipping tape to reinforce the edges and areas where they fold together.  Ours are 10 years old now and have been moved multiple times.
You can organize by buying just a few at a time. They come in packs so you can start small and grow your pantry as time and budget allow.
One box holds a LOT of cans! More soup cans fit than anything else, but also short meat cans can be stacked into fours and roll through nicely.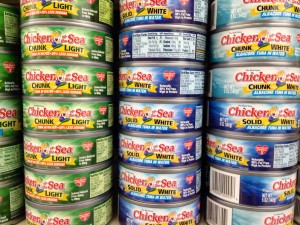 Con:
Larger and #10 size cans do not fit.
Pro or a Con … based upon Your Opinion: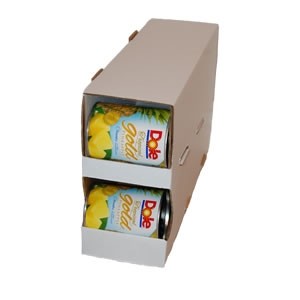 Some people don't like that the each of the organizers comes unassembled. But there is a short video on the site which instructs you via step by step, how to assemble them quite easily. You can view that video even before you buy to help you make up your mind first.
I personally like that they fold down flat for moving them. In my opinion, it was much easier than building (or breaking down) a huge wall unit.  
In conclusion – I highly recommend The Can Organizer as a budget-friendly, portable option for organizing and storing store-bought canned goods.
 ____________________
About Donna Miller
Donna Miller is the wife of 30 years to the love of her life Joseph, the mother of three home-school graduates and has one daughter-in-law and one son-in-law.
She is the hostess of the radio shows "Your Preparation Station", and "Encouragement in the Kitchen". Both found on iTunes & BlogTalkRadio.com 
Donna teaches local classes & ladies retreats for people to learn hands-on lost skills. She is a teacher, author, sought-after speaker and trainer.
The Millers are the owners of Millers Grain House, are the founders of PREPARE Magazine and the Organizers of WNC Preparedness Group in Asheville, NC.