Food Storage Recipe
Typically a cold weather food, Split Pea Soup is a hearty meal that can be made entirely from foods that are stored for long term. Split peas last for a year or more in the pantry. Dehydrated carrots, onions and spices are also long term food storage items. If you can your own veggie or chicken broth, or purchase granules or bullion cubes then you're set.  Nothing has to be "in season" to make this filling soup.
Here is the recipe and the steps.
Ingredients:
1/2 Cup shredded or diced dehydrated Carrots
1/4 Cup diced dehydrated Celery
1/4 Cup diced dehydrated Onions
1/2 Cup dehydrated Potato Cubes(optional)
2 Cups Split Green Peas
1 TBS Olive Oil
1 TBS Garlic Salt
1/8-1/4 tsp Cayenne
1/4 tsp Cumin
2 Quarts of Soup Stock (veggie or chicken or water/bullion equivalent)
First – soak 2 Cups of Organic Split Green Peas over night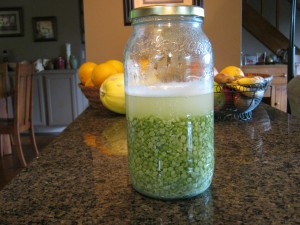 Don't worry.  They will likely look a little 'frothy' in the morning, but this is normal.
Just be sure before you go to sleep that you have covered the Split Peas with more than double their height in water.  For example, if the peas are about 4 inches in depth, put 8 inches of water ABOVE THE TOP. Twelve inches all together.  Because the peas will soak up a LOT of liquid over night making them easier to cook to smooth the next day.
After soaked, drain them before moving on with the rest of the recipe.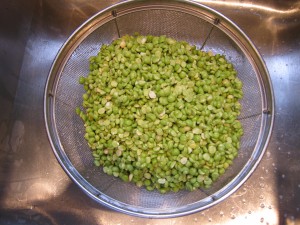 Mean while, back at the soup pot:  Add about 1 Cup of the liquid to the base of the soup pot, put in all of your dehydrated veggies and let soak for a little while (approx 30 minutes).
Now add remaining liquid/broth, Drained Split Peas and spices.  Cook on low heat for 2-4 hours. Stirring occasionally.
Either use a stick blender and put in the pot whirring until creamy or transfer by one cup at a time to a blender to blend most of the soup to creamy.  For a chunkier soup, blend only half of the soup and leave the rest as is.  Combine.  For a smoother soup, blend it all.  Serve hot.
Serve with freshly baked bread for a real treat.
This can even be pre-made with the dry ingredients in a cute little gift jar.  Simply put the Split peas as the base and a small decorative bag full of the other dehydrated foods combined with the herbs as a topper inside the jar.
EnJOY!
Food Storage Recipe
Food Storage Recipe
Food Storage Recipe
Food Storage Recipe
Related terms: Long-Term Food Storage Recipes, Mormon Food Storage Recipes, Basic Food Storage Recipes, LDS Food Storage Recipes, Jan's Fabulous Food Storage Recipes, Food Storage, Food Storage Recipes Blog, Food Storage Recipe Book