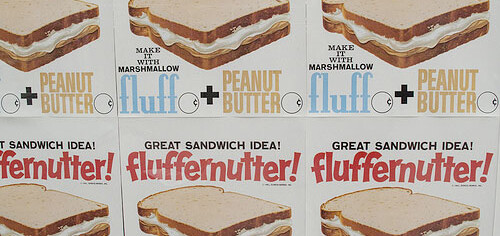 Sure.  Maybe you thought that today was only Columbus Day, but nay there is a more pertinent holiday that just begs to compete with the accidental finding of our home land…and that is National Fluffernutter Day.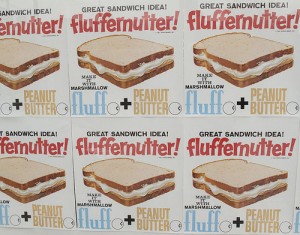 No. This is not another word from the movie Mary Poppins, but a real iconic sandwich (or variation there of) using peanut butter and marsh mallow fluff.
Although not a healthy food as depicted in the photo to the left, on white bread, it is often associated fondly with the nostalgia of childhood and thus, to me means we can grow it up a bit by making it healthier and still enjoy some of the fun too!
So let's look at how to do this:
First – please try your hand at making your own PEANUT BUTTER.  It's easy and often less expensive.  It also lacks those awful hydrogenated oils of the store bought variety.  Also by using some Stevia vs. all Sugar (as the video linked above shows) you cut down on the sugar intake.  Of course that 's a mute point was we get to the other ingredient… Marshmallow Creme, but oh well.
Marshmallow Creme is what it is.  Although the one benefit is that it is a no fat food! So there, feel healthy. (o:
The last needed ingredient for your Grown-Up, Healthified, Fluffernutter Sandwich would be freshly milled 100% whole wheat bread. Here's the recipe. If it's made from home with all ingredients you can pronounce it's much healthier.
Now put that sandwich together (go sparingly on the fillings, remember they do ooze)  and just enjoy!
A few other options to enjoy National Fluffernutter Day are:
– Put home-made PB and Fluff on a Rice Cake
– Put home-made PB and Fluff on a Whole Wheat Pancake
– Put home-made PB and Fluff in between crackers.
It's an odd food holiday…but a fun one we can still enjoy just a little bit if we put on our thinking caps.