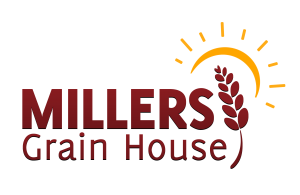 Maybe you've stopped by and wondered what is going on at Millers Grain House!?!  Things look a little different and there is a new logo at the page top.
Don't worry, Millers Grain House has not changed hands – we're doing some house keeping to serve you better.  We are growing and we are getting busier.  With that, we also want to be sure to give you the best possible service we can!  We've put everything that was once in different places across the web in a more user friendly one stop place: http://www.millersgrainhouse.com
And more than offering whole grains, wheat, grain grinders and mills – we want to be able to serve you with in other areas as well.
Some of the changes already  include:
Easy access to the last 3- 6 months archives of m weekly radio show: Encouragement in the Kitchen.
An ever expanding FAQs and Knowledge Base section that covers everything from which whole grain to use to questions about grain mills/grinders and how to store grain and other food.
A brand new Support Team that will not only organize your questions so they are answered in a more timely fashion, but by asking – you help grow the Knowledge Base!
Clearer categories to get you where you want to go:  Main Store – Bulk Delivery Route – Classes
As always, a way to  stay in the loop! Subscribing to the Newsletter (risk nothing and get a Free Recipe each month while we stay connected!)
YOUR Testimonials are running along the bottom of the home page! Thank you! (o:
But wait!   There's more!    NEW things coming  SOON:
Free Webinars with live lessons, question & answer sessions and recipes!
A Jazzed up YouTube channel with some new faces to continue Free Videos for you!
A Discussion Forum to share your whole food and whole grain trials and triumphs!
Recipe Sharing!
The Member's  Group with perks of its own with exclusive online classes, exclusive discounts, exclusive downloads and discounted merchandise.
It is our desire to serve you the best best we possibly can! With these new and exciting additions and the ones we've organized in place already – it is our hope that you will settle in and join the 'family' here at Millers Grain House. We'd love to have you share with us!
Best Blessings and enJOY the journey!
Donna Miller