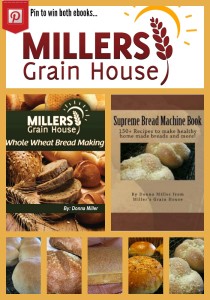 Two Bread Making e-Books are just the beginning, this giveaway is the kick-off to begin online classes!  So your feedback in the form below is very important.  But, why not give you a chance to WIN for sharing your input, right?  I think that's only fair.  🙂
Book #1 is my Whole Wheat Bread Making Book – which is a step by step tutorial with all the tips, tricks and techniques for a successful loaf of tasty, whole wheat bread that your whole family will enjoy (even the ones who used to snub whole wheat)!
Book #2 goes beyond! The "Supreme Bread Machine" now takes you on a taste-bud journey where you can use the techniques you learn in the other book.  It opens up 155+ varieties of bread from savory to sweet from batter to yeast loaves.  And there are great tips on storage and troubleshooting.  As a BONUS , you'll also receive a link to my Bagel Making Video – which will help you turn most all of these recipes into Bagels too!
Enter with these quick, easy steps for your opportunities to win these two easy to follow e-Books.
Don't forget – you can come back and "Tweet" this giveaway each day to increase your opportunity!
Also – if you want to be notified of more giveaways, perks and the upcoming online classes (well, you can see what all you get over there), be sure you subscribe to our newsletter —->
Happy Entering and enJOY the Journey!
Donna Miller