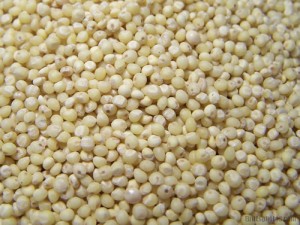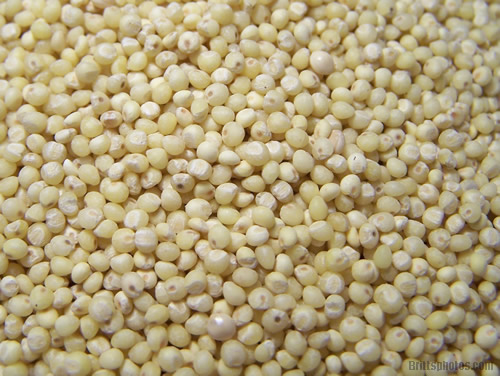 Low gluten and gluten-free items can be very expensive to buy in the store.  So if you want to know what you're getting and if it 's right for your gluten-free or lower gluten diet, it would be good to learn a little more about the grains you can use.  I began my journey in home-milling because of a diagnosis of gluten sensitivity.  Thankfully I found it was the processing of wheat flour that was my issue, not the gluten (as is the case in many people's mis-diagnosis) and I can again eat freshly milled whole wheat.  But I did learn of several grains that work well for a lower gluten or gluten-free diet.
Because these grains all contain a trace to no gluten, they will all require some kind of binding agent in the recipe in which you use them. Gluten protein forms strands to hold dough together when baking. These grains do not have those strands so you cannot replace the milled flour of a low to no gluten grain  exactly for wheat flour.
Millet (pictured above) is one of the staples in a gluten free diet.  Millet can be cooked as a replacement for couscous (which is a wheat pasta, not a grain) or milled into a flour.
Quinoa is another low gluten grain.  It is very high in protein and also cooks well whole.
Rice is a gluten-free grain.  When milled the flour is very fine and suitable for thickening sauces.
Rye is an extremely low gluten grain.  The flour is suitable for baking flat breads and using in batter bread mixtures.
Corn is low gluten. There is a trace amount of gluten & starch in some corn meals.
Oats can contain a trace amount of gluten.  If you suffer from Candida or Celiac's , be sure the oats you purchase are labeled 'Gluten-Free' since not all oats are gluten free.
Spelt is another grain often used in low to no gluten diets, but it does indeed have trace amounts of gluten in it.  It can be kneaded but only for a short time after which over kneading causes the dough to become very sticky.
Kamut is not low or gluten-free.  Kamut is an ancient grain akin to today's wheat derivative.
Let me encourage you that if you have been diagnosed with a gluten sensitivity or a gluten intolerance, you may be able to enjoy whole wheat bread again if you mill the wheat at home and use it fresh.  However, if you have been diagnosed with Candida or Celiac's  consider milling these low to no gluten grains at home to save yourself some money and give you variety in your diet.