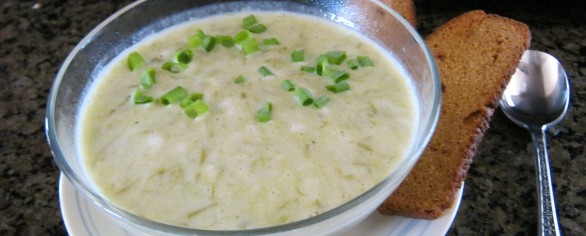 I'll be the first one (okay, no my FAMILY would be the first ones) to tell you that I used to HATE admitting I made mistakes!  To the  point of vehemently arguing that it was not a mistake at all (even if I really knew I'd made a major booboo).  Years, maturity and wisdom finally worked into my thick skull (and God worked on the pride thing) and I actually now embrace (some of) the mistakes I make as abilities to grow and learn.  The kitchen is one of those areas in which I actually love to make mistakes.  As long as no one gets hurt.
Today  we are doing the Miller House tradition of Fridge Purge.  Which means – I am not going to buy more refrigerated groceries until we make some room.  So meals get creative.  I had about 8 stalks of cooked asparagus that no one was going to eat and would be headed for the trash by Saturday if I didn't come to the rescue and FAST.
Also – several days ago I had a failed attempt at Sour Dough Bread.  Don't ask me why but that stuff alludes me every time. But no way was I tossing that whole loaf out just because it was squatty.  So it became Melba Toast (in the Excalibur Dehydrator).  All I did was slide the loaf very thin.  Brushed both sides with a tad bit of olive oil and dehydrated until crispy.
So here is the super frugal lunch that came out of it my mistakes and left-overs: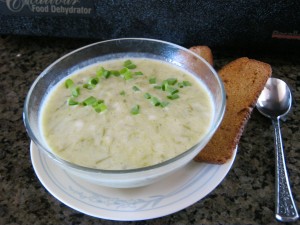 Please don't ask for a real specific recipe – because I measured nothing – just started tossing in the ingredients and out came a very creamy, delicious Cream of Asparagus Soup (with Melba Toast) for two!
Basically it was the 8 cooked spears in enough fat-free milk to cover, cooked on low until softened.  Added about 1tsp of garlic grape-seed oil and seasoned with garlic salt, onion salt and savory to taste.  Then let simmer just a few minutes.
With a stick blender, I whirred the mixture until most of the spears were ground up nicely. I then took 1/4 cup(ish) of cold milk and mixed about 2tsp of Arrow Root Powder into it – poured that mixture into the hot soup and stirred until thickened.
Put it in the bowl, topped with fresh chives and two home-made Melba-Toast by mistake slices for dipping and Tah-Dah! I took that picture to share lunch with you! (o:  The other serving went to my particularly picky daughter – who actually liked it!
It actually tasted like it had a cheese base but it didn't.  For those who are dairy free – we you could use non-flavored or sweetened  rice milk, almond milk or coconut milk.
For more photos of this visit our Millers Grain House Facebook Page – and "LIKE" the page to see more!
I hope you don't throw out your mistakes or you tiny little left-overs *until they grow stuff on them or smell bad* – but that you use your imagination to embrace your mistakes and make something surprisingly pleasant out of them!
Best Blessings!
Donna