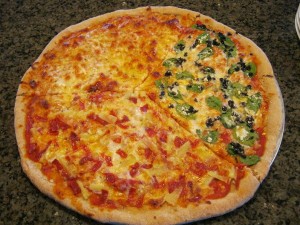 Home-made Whole Wheat (freshly milled!) Pizza Crust can be made easily ahead of time to make even the most hectic evening meals both fast and healthy.  With variety and choices of toppings it can be a great family pleaser!  I mean, who doesn't like to choose their own toppings on pizza, right?
From fresh herbs to your own simply made tomato sauce (ground tomatoes) there are endless possibilities to toss on top of this crust and have dinner in a flash.  The secret is making several of these healthy crusts ahead of time and freezing them!
Here's the simple way to do it.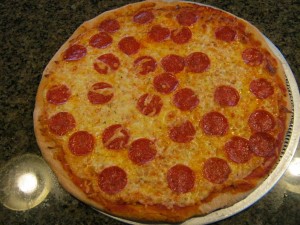 First use freshly milled whole wheat in your favorite recipe.  You can see mine on our VIDEO ARCHIVES.
Second, buy the large turkey roasting bags at the grocer.
Third, when making these only par-bake them at 350 for between 8-10 minutes until lightly cooked.
Then cool completely, bag and put in the freezer.  Stack them inside the turkey roasting bag, twist tie and freeze!  Ready to be used when you're short on time, but don't want to short change your family on healthy food!
Then when you have only 15 minutes to have dinner on the table – pull one out, decorate as you like and bake for about 10 minutes at 400 degrees.  Within  less time than it takes to drive to the take-out pizza place you've got a far healthier and budget friendly dinner ready to go!
By using freshly milled whole wheat – you also enjoy the flavor of the pizza without the over powering taste of the bagged whole wheat flour ruining the sauce, cheese and toppings!  So if you've not thought of a mill you'd like yet…please view our GRAIN MILL COMPARISON CHART to get started!