Radio

Welcome to our Radio Archives: "Encouragement in the Kitchen"
The purpose and mission of our weekly radio show (and with everything we do) is to "Prepare you and your kitchen with tools, tips, skills and encouragement."  We venture beyond discussions of whole wheat and grains and include other areas in making your kitchen more efficient and rewarding, and ways you can save money.
This page is in the midst of an update – so please pardon our dust!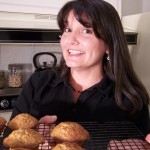 Hi!  I'm so glad you stopped by.
Please make yourself at home!
Let me know if I can assist you in any way.  If you are looking for grain mills or other kitchen appliances, be sure to stop by the store. www.millersgrainhouse.com/store