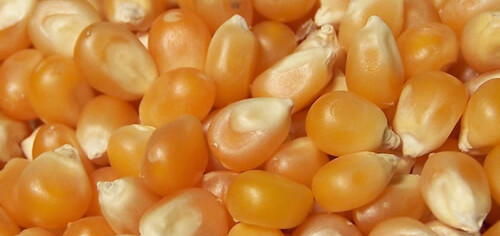 We usually just pop it in some organic coconut oil and toss on a little sea salt. But…popcorn is far more versatile and not just for the movies.
Popcorn has been used in Native American remedies for headaches. When using an air popper and keeping the butter low it also makes a great low calorie snack that is a very filling food.
I want to share a wholesome, sweet treat with this high fiber, low fat, very filling grain.
I did a video of this recipe a while back so I'm also including it here with the written recipe.  PLUS some ideas, variety and an 'out of the box' idea that most people don't think of with popcorn are listed below that I hope you'll try and enjoy!
_____________________________________________________________________________________________________
Caramel Pop Corn
Makes – 6-8 servings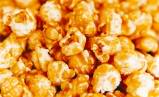 Ingredients:
 1/2 Cup Coconut Oil (Canola or butter)
 1/2 Cup Local Honey
 1/4 Cup Maple Syrup
 1/4 tsp salt
 1/4 tsp vanilla
 6-8 Cups Popped Popcorn
Instructions:
Preheat oven to 325
Make sure rack is centered in oven.
Combine first four (4) ingredients and heat slowly over a medium to medium-high heat until it comes to a low boil. (see in video)
Let boil for 1.5 min (1 minute 30 seconds) while stirring.
Remove from heat source and add vanilla and stir.
Move over to bowl of popped corn and pour slowly (careful it is HOT) to mix and coat all.
Grease a cookie sheet that has edges.
Pour coated popcorn out in a single layer on cookie sheet.
Bake on center rack for 10 minutes at 325 degrees (set that timer).
Remove from oven and stir/toss then TURN OFF OVEN and replace in oven for 5 minutes.
Let this completely cool to the touch (but not long enough to get stale or moist) then store it in a zip lock bag with some powdered milk to keep from sticking. (see the video)
~~~~~ VARIETY ~ THE SPICE OF LIFE ~~~~~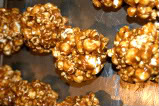 Go Nuts: Add about 1/2 Cup of your favorite nut to the popcorn before it's coated. No need to change the baking, just keep an eye on the roasting of the nuts.  And Tah-dah…you've made your own home-made 'cracker jack'.
Mix-in Options: After it's cooled, mix in any 'trail mix' type goodies such as M&Ms, coconut, dried fruits, or chocolate chips.
Have a ball: Make popcorn balls while the baked popcorn is still a little warm. Grease your hands and form into balls to cool on wax paper or aluminum foil.
Added variety: Put a candy kiss in the center of the ball before it cools….yummy surprise.
 ~~~~~  AN "OUT OF THE BOX" IDEA  ~~~~~
 I for one was addicted to the cereal "POPS" up until the early 90's. I'm not sure if they are still called that – but the sweet, big, corn popped yellow PUFF?  Well, I was so enamored with them because of the child-hood taste attachment, that is, until I read the ingredients list.  Oh it was a sad day for me to say the least. But, I have a fix!
Not too many people may think of this but, you can use this wholesome, basic ingredient Caramel Popcorn as a breakfast cereal. Just put it in the bowl, pour milk and enjoy. No additives, a great deal of fiber and all natural. EnJOY.
_____________________________________________________________________________________________________
So…does this give you any ideas?
Do you have a great popcorn idea to share?
Maybe I'll try yours out and do a YouTube Shout-Out to you on the Our Channel
If you've got something to share – please leave a reply. I'd love to hear from you!
_____________________________________________________________________________________________________