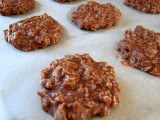 No-Bake Chocolate & Peanut Butter Oatmeal Cookies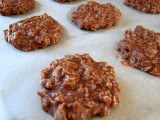 Healthier ingredients for a very decadent dessert!
Makes approx. 24 – 1/4 C cookies
Ingredients:
1/4 C Organic Butter (salted)
1/4 C Organic Coconut Oil
(or use 1/2 C of Real Butter Made Real Healthy instead of the two ingredients above)
1/2 C + of Lowfat Milk
1/3 C Powdered Cocoa (can be half dark cocoa and half regular)
2 C Organic Evaporated Cane Crystals
2/3 C Home-made Peanut Butter
2 C Organic Quick Oats (remember how to 'make' them? Go Here)
1 C Organic WHOLE Rolled Oats
1 tsp Vanilla Extract
Set-up Instructions:
In a VERY large bowl put all the oats (both kinds) and the 2/3 C Home-made PB in a glob on top of the oats in the center and set aside in an area where you can mix hot liquid in later.
Also now, cover two large cookie sheets with wax paper. REMEMBER, don't buy it if you don't have to -go see 'The REAL prize in the Cereal Box' video.
Combine sugar and cocoa in a bowl to keep the cocoa powder from clumping/not melting smoothly.
Instructions:
Over medium-high heat, melt butter and coconut oil (or Healthy Butter) in a medium and deep sauce pan.
Add Milk while the other is melting.
When milk, butter and coconut are combined and melted add the cocoa/sugar mixture.
Stir until well combined.
If it seems thick like fudge, you can add up to 1/3 C more milk. You don't want it really thick or too thin. It should be thinner than pancake batter consistency when it is this warm.
Stir as the mixture comes to a boil. Continue stirring while mixture boils for 1 minute.
Pour this hot liquid carefully over the peanut-butter-in-the-oats bowl.
Add in the 1 tsp of vanilla extract into a puddle of the chocolate before mixing.
Mix until all oats are covered with the sweet liquid. If you like a dry cookie add more oats.
Now – scoop out approximately 1/4 cup size balls and place on wax paper. Flatten to even discs so they will cool equally.  Repeat until all batter is gone.
Place in freezer (since you can't wait!) or refrigerator (if you have some patience) or leave on the counter to cool (oh sure, like THAT'S going to happen) – we ALWAYS go right to the freezer.
Once they are solid, pick up and enjoy
Store in the fridge in a baggie for as long as you can resist – or 2 weeks – whichever comes first.
Don't feel too bad – there is a LOT of RAW fiber in that rich, yummy cookie. (o: