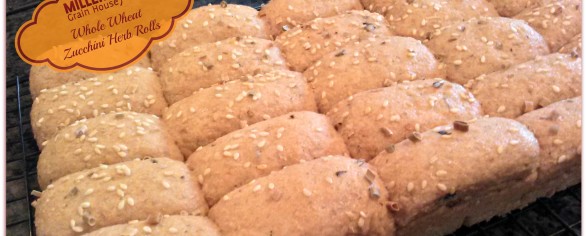 These Whole Wheat Zucchini Herb Rolls can be made Vegetarian or Vegan but don't let that keep you from serving them with your most hearty (or meaty) meal!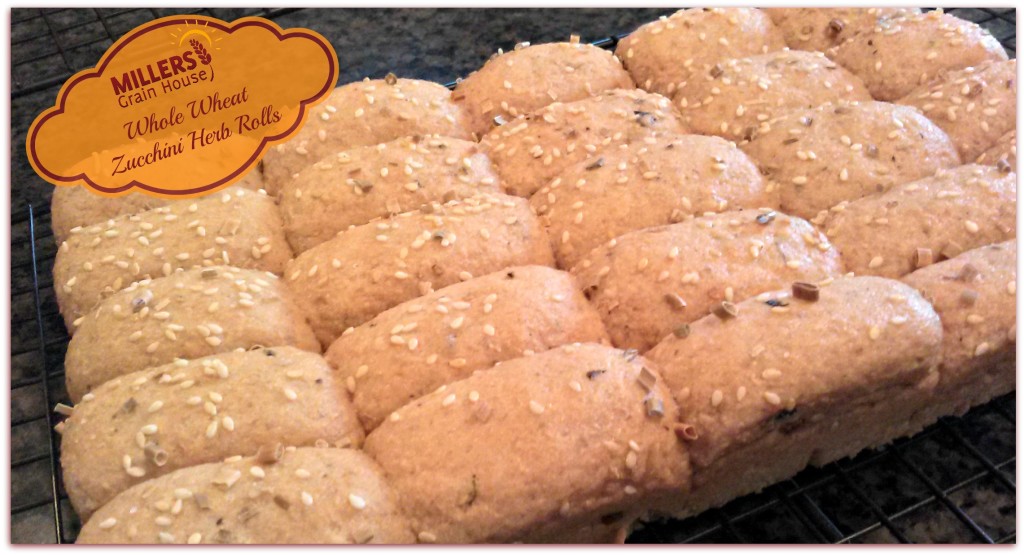 Well, it's been a while since I've blogged a recipe.  My sincerest apologies! We're moving over to OUR NEW WEBSITE and I'm a bit more disheveled than usual. But summer is really upon us and zucchini are usually prolific growers so I had to do something with the ones we had that were about to go bad.
Typical zucchini bread is a sweet, batter bread that is akin to banana bread.  My more savory version is meant to be a highlight to a meal rather than a sweet snack.  I hope you enJOY!
 Ingredients:
1/2 Cup warm water (between 100 -114 degrees)

2 TBS Honey (Vegan – use Evaporated Cane Juice/Crystals)

1 TBS Olive Oil

1 1/2 tsp Instant Yeast

3/4 Cup Shredded Raw Zucchini

2 3/4 Cup Freshly Milled Hard White Wheat Flour 

1/2 tsp Dried Italian Herbs

2 tsp Sesame Seeds (divided – using 1 tsp each)

1/2 tsp Sea Salt

1/4 tsp Garlic Powder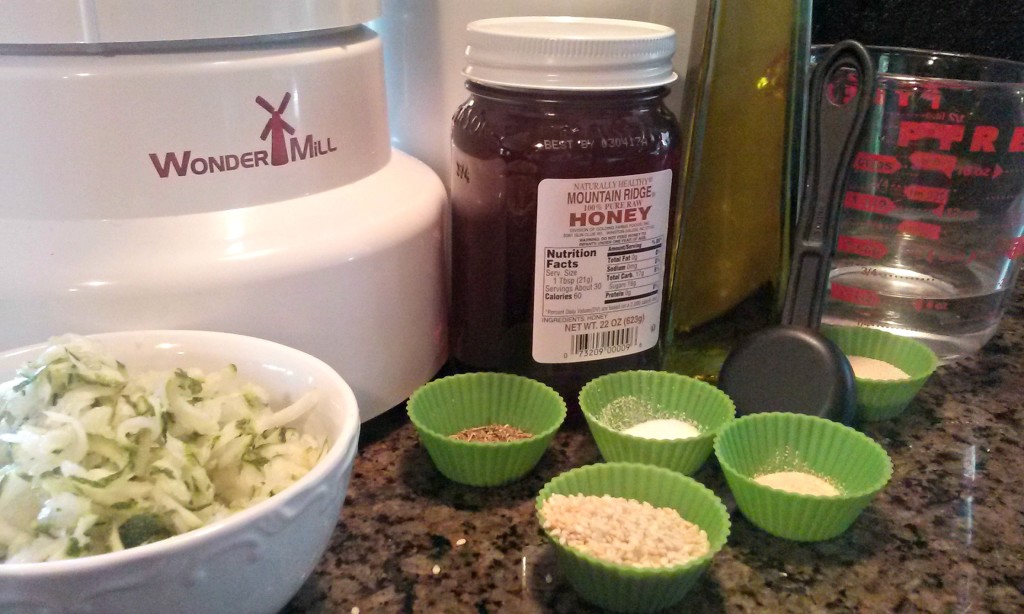 After milling  your flour (I use the Wondermill) gather all your ingredients to make sure you have enough of everything before you begin. 
You may use a bread machine for this entire recipe by simply putting the ingredients into the pan in the order listed. Turn on to dough setting. Then when finished remove and shape as below.
For the sake of how I made these (gotta match the pictures) and for those who love the 'by hand' method….here are more instructions: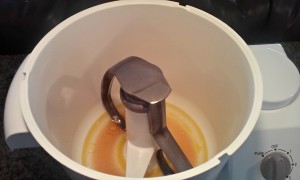 1) Combine the first three (3) ingredients into a bowl or in my case, I'm using the WonderMix.  
2) Stir until well combined. Now add the 1 1/2 tsp of Instant Yeast.  (be sure the water is lower than 115 degrees to avoid killing the yeast). There is no need to 'proof' this because it's instant yeast so let's move on. 

4) Stir in all the shredded Zucchini
5) Now turn on machine (or by hand) stir in one cup of flour at a time…
6) After at least the first cup of flour (but don't wait until after all the flour) add the Sea Salt, Garlic Powder, Dried Herbs and one (1) tsp of the Sesame Seeds.
7) Finish adding flour until ready to knead.
8) Knead by hand or by WonderMix. for a minimum of 10 minutes or until gluten has formed to make the dough very springy when poked.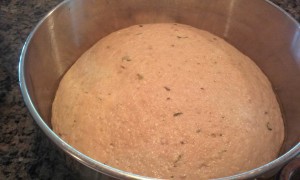 9) When finished place in a bowl and a warm (80 degree) location and allow to rise until doubled. 
10) After rising until doubled (approximately 30 minutes at that warm temp) knock out all large bubbles and begin to shape into oblong rolls.  Pinching the under belly of the roll to keep the ugly side (and seems) down onto the pan.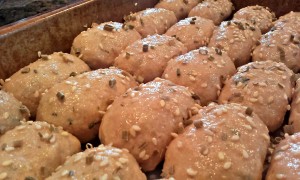 11) Arrange them side by side, almost touching, in a low metal pan that has been sprayed or greased.
12) Brush with an egg wash (Vegan option use Aquafaba or Flax seed gel) and sprinkle with remaining Sesame seeds and other optional herbs (I added some dried chives).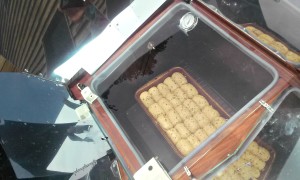 13) Allow to rise until all sides touch.  
14) Par bake in a low 250 degree oven for 30 minutes.  Our house was hot so I par baked mine in the All American Sun Oven.
15) Remove to cool completely on a wire wrack.  Then bag and freeze for warming in the future!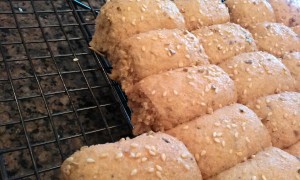 The reason we bake these low and then freeze them is because the recipe makes so many.  This allows us to break off what we need and lightly toast/reheat them in the oven just as dinner is finishing.  Like the 'brown and serve' dinner rolls that are made of junk you can get ready made at the store. 
These are better, and can be used the same exact way!
I hope you'll give this a try! If you do or you make any variations to this recipe, I'd love to hear how it all turns out!  Please leave a comment below…
Until next time…
Best Blessings!