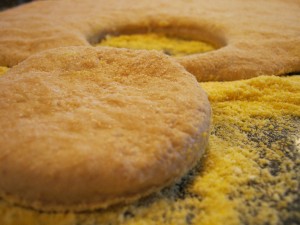 One of the biggest joys of freshly milled whole wheat at home is experimenting and finding out just what can be made. Having the whole grain on hand, milling it and using it in a variety of ways just opens the doors wide for budget stretching and nutrition!
I used to think that English Muffins were one of the most difficult things to make.  I mean, look at them!  They are small discs of toasty goodness with the pull apart texture that makes them toast better than any slice of bread.  Not to mention, we have always made Egg-Mc-Miller-Muffins  for special occasions and I was afraid I'd mess things up by trying to make a Whole Wheat English Muffin.  Boy, was I glad to be WRONG!
The May 31st Newsletter will have the full recipe and steps for making your own whole wheat English Muffins.  Trust me, if I could do it – you can do it!  So be sure you're signed up for the Newsletter.  Also, we'll be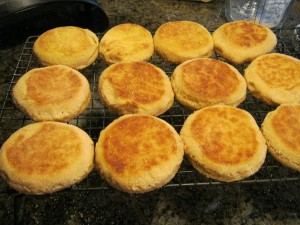 having a live video class on this – so you can see the techniques and ask questions!   We'll notify you of that class in the newsletter too!
I'll leave you with my favorite picture from my adventures in Whole Wheat English Muffins!
EnJOY playing with your food!  You may never know what you can do until you try!