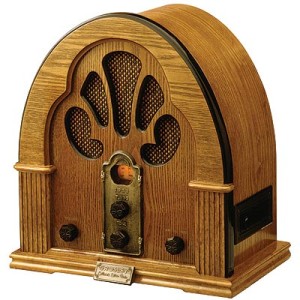 David Letterman may be retiring, but I've got my own "Top 10" to share with you.  It's a little more useful than it is funny, but I hope you enjoy it.  To get the full effect, hear the little nuances, tips and tricks plus enjoy the tongue-in-cheek approach I tried in order to make frugality a bit more entertaining, you'll want to click the audio bar under that radio pictured to the left and listen to a recent show of mine (Surviving On Shoestrings on the Survival Mom Radio Network).
To follow along and get a hint of what I break down in the show, here is a basic list of  my "Top 10 Frugal Tips & Thrifty Kitchen Habits":
Audio clip: Adobe Flash Player (version 9 or above) is required to play this audio clip. Download the latest version here. You also need to have JavaScript enabled in your browser.
#10 – Get Organized.
#9 – Do a Weekly Purge.
#8 – Grow Something (Garden)
#7 – Cook from Scratch.
#6 – Make your Own Condiments and….
#5 – Portion Control from the Beginning
#4 – Pack Snacks & Lunches…
#3 – Shop Sales & Use Coupons Wisely…
#2 – Plan a Weekly Menu…based on….
#1 – Buy Extra & Buy Bulk!
Email or Call if you Live in our area of WNC and want Bulk Foods!  828.536.4988 –
Support
@MillersGrainHouse.com
Now if you listened all the way through, you know that the list is only the framework, the tips and ideas and ways of looking at our kitchen habits differently are what can help encourage you
Bonus contest!
Leave a comment and answer: How many times did I say the odd phrase: …. "Not to mention…." ?
The first one to get it right…I'll send you a copy of my first e-book: Supreme Bread Machine Cookbook
Who knew that I said that many times…? It got kind of annoying…now that's a new habit that I need to break!
Best Blessings and enJOY the Journey!
~ Donna Miller

Hello!  Thank you so much for stopping by.  Please make yourself at home, and be sure to let me know if I can assist you in any way.
If you are looking for whole grains, grain mills, or other kitchen appliances, be sure to stop by my store.  We're stocked with some great items!  Go to:  www.millersgrainhouse.com/store