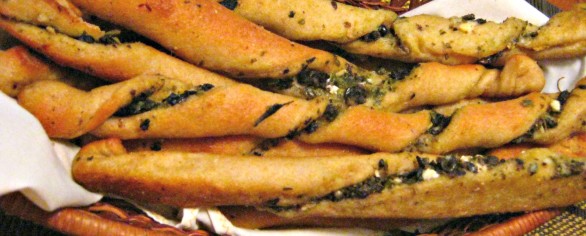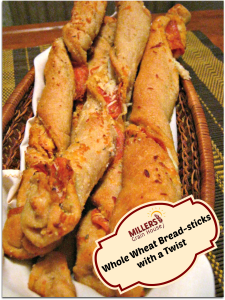 "Light bulb" moments and "happy accidents" are my favorite things. (:  Let me share one with you… and it comes in the form of a recipe.
One night I made double my regular Whole Wheat Pizza Crust as if I were feeding the whole army of Millers (don't know what got into me, I guess I was waxing nostalgic thinking I had little kids at home…but I digress)… then I realized that only two of us were going to eat that night and we had a road trip the next day!
Typically I would make the extra pizza crust and freeze it (in a turkey basting bag – because they're huge)…but this time I thought I should make some snacks for the road from the crust.  And boy did these Whole Wheat Bread-sticks with a Twist hit the spot!  Portable and filling!
So I share this happy accident with you!
Hope you enJOY, get creative and keep playing with your food!
Best Blessings,
Donna Miller of Millers Grain House
_____________________________
After making the pizza crust.  Roll out dough in a rectangular(ish) shape and begin the creative process. To avoid too 'gooey' of a bread stick you won't want to use much sauce or liquid toppings, but as the example below shows we made one half has Parmesan, mozzarella, peperoni and oregano. The other half has pesto, olives, feta and some dried onion flakes.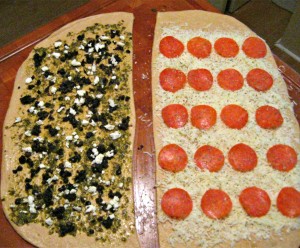 Then we used the pizza cutter to cut into strips.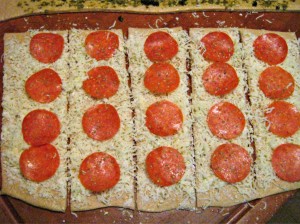 After we cut the strips (and made garlic knots out of the ends that were missed with the toppings), we folded the good stuff inside, lengthwise and then gave each bread-stick dough a little twist while putting it on the cookie sheet. See the pesto, olive bread- stick below: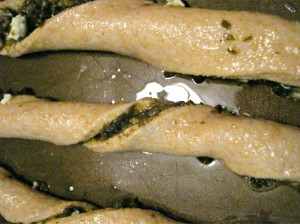 Bake these Whole Wheat Bread-sticks with a Twist on cookie sheets at 350 degrees F.  For about 15-18 minutes and cooled on a wire rack before bagging.
These are great served warm (of course we had to taste test them!) or once completely cooled can pack in a baggie for an easy take-along snack.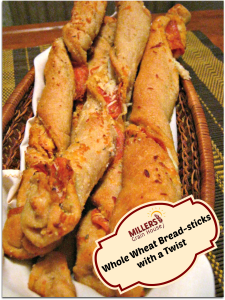 _____________________________
Please visit Millers Grain House for your kitchen needs.
When you create a new customer account, you receive a coupon code to save on your first purchase!

Hello!  Thank you so much for stopping by.  Please make yourself at home, and be sure to let me know if I can assist you in any way.
If you are looking for whole grains, grain mills, or other kitchen appliances, be sure to stop by my store.  We're stocked with some great items!  Go to:  www.millersgrainhouse.com/store