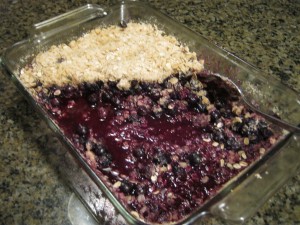 The only regret with respect to this blog entry is that I did not snap a photo quickly enough of the Easy Whole Grain Fruit Cobbler (in this case blueberry)  prior to it being devoured and the visual appeal was essentially destroyed.
Oh well, the photo does show that it was an apparent favorite! I guess that counts for something, right?  (:
The girls went to an Organic You-Pick Blueberry Orchard the other day and came home with two large bags of fresh, organic blueberries!  Our favorite!
Often we make this tasty dessert from fresh fruit. However, we have additionally made it with pie filling from a can.  Regardless of the fruit filling of choice, what  truly  "makes it"  is the freshly milled flour and whole grain topping.
As with all my recipes the flour called for is freshly milled flour.
Since this recipe does not require a lot of flour, the gray storage container lid for the Wondermill helps keep even the smaller portion of left-over whole grain flour fresh for weeks in the freezer after milling .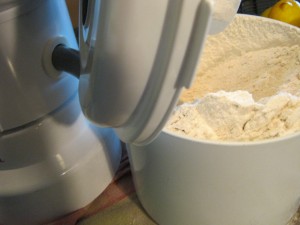 As date of this post the Wondermill is on sale with free shipping. 
Click here to see the savings.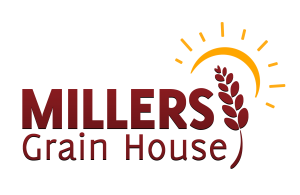 Whole Grain Fruit Cobbler
Ingredients:
3 Cups of sliced fresh fruits (berries, apples, or pit fruits are best)
Option – 2 Cans Fruit Pie Filling of choice*
2 TBS Arrow Root Powder *omit if using canned
2 TBS Organic Evaporated Cane Crystals *omit if canned
2 Cups Organic Whole Rolled Oats
1/2 Cup Freshly Milled Organic Whole Wheat Flour
1/2 Cup Organic Evaporated Cane Crystals
1/4 Cup Sucanant (may substitute Brown Sugar)
4 TBS softened butter
2 tsp vanilla
9 X 13 baking dish
Coat baking dish with either butter or non-stick spray.
In a large bowl cut up fruit to equal 3 cups (may mix and try fruit combinations). Add Corn Starch and 2TBS Cane Crystals, toss to coat. Pour out into baking dish.  If using canned pie filling, simply empty cans into the baking dish.
In a clean large bowl, mix Oats, remaining Cane Crystals, Sucanant and Whole Wheat flour until combined, Cut in butter then add vanilla until combined.
Pour on top of fruit mixture (but do not pat down) to cover.
Bake at 350 degrees until top is crispy and fruit is bubbly. Remove from oven and let cook for about 10 minutes so topping gets more solid (and you don't burn your mouth!)
Top with frozen yogurt or REAL whipped cream.
What a great way to get more whole grains into your family's diet.  They'll LOVE this dessert and you won't feel bad about sharing this with them!
Please leave a comment if you try this recipe – and let me know what is your favorite fruit to use in it!
Until next time…
Keep playing with your food and enJOY the journey!

Hello!  Thank you so much for stopping by.  Please make yourself at home, and be sure to let me know if I can assist you in any way.
If you are looking for whole grains, grain mills, or other kitchen appliances, be sure to stop by my store.  We're stocked with some great items!  Go to:  www.millersgrainhouse.com/store