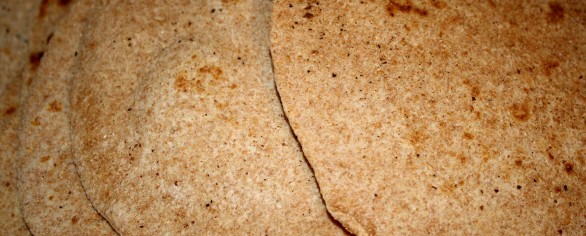 Although often asked about my heritage – I do not have any Hispanic blood in my ancestry.  Odd thing is, based on our favorite foods – you might think so. (:
So it is with this thought in mind I share one of my favorite versatile South of the Border foods.  The tortilla!  Of course I'm going to make it whole grain and with healthy oils so we can enjoy them more often.  I've also included with this recipe is a video I made to make it easier to follow along…and a bonus idea at the very bottom to make this an even more versatile recipe.  I hope you enjoy!
FRESH MILLED WHOLE WHEAT FLOUR TORTILLAS
Makes 8-12 servings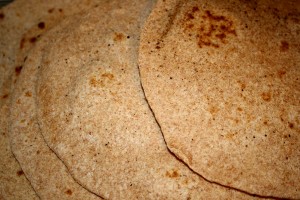 Dry Grains you need to mill:
1.5 Cups Hard Wheat (Red or White)
You may wish to use 3/4 hard and 3/4 soft wheat
'Special' Items Needed:
Griddle, Large Sauce Pan or Electric Tortilla press
Rolling pin (unless you have a Tortilla press)
Plastic Wrap
List of Ingredients:
1 Cup Warm Water (you may not use it all)
1/4 Cup Olive Oil
1 tsp Salt
1/4 tsp Baking Powder
2.5 Cups Freshly Milled Flour
Using fork or wire whisk, combine all dry ingredients in a medium bowl.   Then drizzle the oil over top whisking in to mix to make small crumbles.
Now, with a spoon/spatula, slowly mix in warm water by drizzling in from down the side of the bowl while mixing. Combine enough water until mixture is moister than a yeast bread but drier than a muffin mix. When it pulls from the side of the bowl while mixing it should be ready. Turn the slightly tacky/sticky dough out on to plastic wrap and seal.  Place in fridge for 10 -30 minutes.
Remove the dough and divide it into even size dough balls. Slightly flatten to hockey puck shape. Starting from the fist one you shaped/handled….work your way through them in this order (odd yes, but the extra 'sit' time helps them form).
Use Tortilla press if you have it per manufacturer instructions.
If you don't have a press, then roll out each tortilla while griddle or sauce pan are pre-heating to med-low heat.  When we roll these out we call them "American State Tortillas" – because some look like SC, or VA some are the shape of  CA… but they all taste and wrap great anyway! 
As each one is thin to your liking, flip onto a lightly greased griddle or sauce pan for a minute to two per side.  You can get pretty good at this as you flip one roll another, remove and replace.  You'll have 8-12 of these done in no time.
Store in the refrigerator with a half of a paper towel between each in a zip lock bag for up to two weeks.
Bonus Recipe Idea:
Add a couple TBS of Organic Cane Juice Crystals and a dash or two of cinnamon to the dry mix. Sweet Tortillas to roll up fruits and cream cheese for a quick dessert or breakfast.
For more recipes, encouragement and tips – please Join Our Newsletter –  we would love to keep in touch!
Best Blessings!
Donna Miller