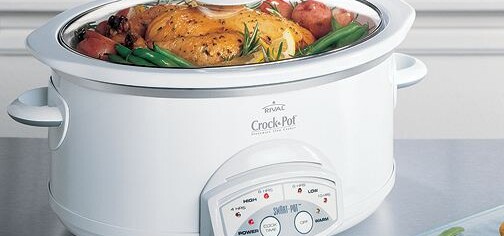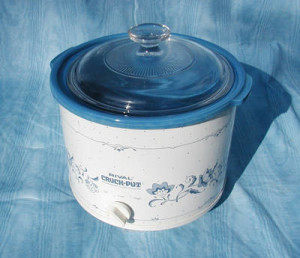 Take a little trip with me, if you will, down memory lane…
The first crock pot that I ever owned looked quite similar to the one pictured here that I saw for sale on eBay.  I really don't know the year, make or model but I do know the sentimental attachment to it.  It had two settings – high and low.  No automatic turn off time, no warming option if we came home later, no removable crock (this puppy was all one piece) and only one compartment for food.
The one thing it did do was a realistic LOW setting.
There were several models like this that seemed to be like our right  hand in the kitchen when the kids were little, work was late and family was busy that helped many of us put a hot home-made meal on the table!
Then, enter the idea that we could improve on the one chamber simpleton that we reminisce about with fondness and we opted for one with more variations….like this one pictured here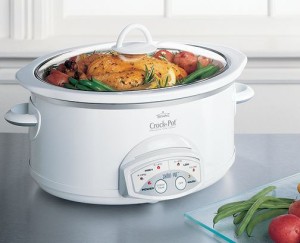 .  The singular interior crock came out making it much easier to wash and could be replaced with an equally easy to clean dual chamber ceramic crock, thus allowing two different items to be slow cooked at the same time. Also there were multiple time and temp settings with a warming time if we perhaps were a bit delayed getting home to avoid over cooking.
This seemed to be a great improvement on the one-pot wonder from years gone by.  I did move to making many a meal in the larger crock pot both for the ease of wash up and the need for larger meals – the kids were in fact growing, as kids will do.  But one flaw I never quite overcame puzzled me until just recently.  Even when set on low, this crock pot got too hot!
All the kids are grown and gone now – but I finally figured out how to make a too-hot low heat work better.  Now please note,  this will not work if your crock pot turns off with the break in electrical current (such as the one above does)…but if you have one that is too hot but stays on a simple setting, you can fix it this way.
Plug it in to a lamp timer.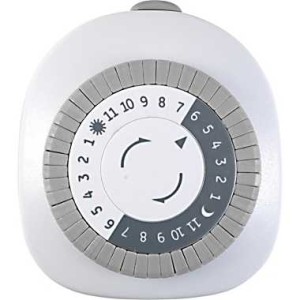 Chances are you have something like this or you can find them at thrift stores and garage sales for pennies.  Simply set it to go on an hour and off the next all the way around the timer.  Plug in the crock pot (one that stays on even if the current breaks) and set it on low.
This will work well if you are hoping to warm soup that has pasta or rice (which can become obliterated in too high of heat) or you simply want to make sure you don't scorch the sides of a smaller serving while keeping it on the lowest possible simmer all day.
I found this to work well for heating food that had already been cooked and keeping things hot enough to avoid spoilage without over cooking them.
Here's a confession:  I still have and frequently use my old, one pot wonder…it still works fine!
Best Blessings!
Donna Miller
Mon – Thurs 9:00-5:00, Fri 9:00-4:00 Eastern Time (Closed Sat & Sun)
828.536.4988